Due to the current complexities with importing fibers, what we have in stock here is all we have to offer. STOCK IS LIMITED! (These fibers were imported prior to the pandemic and have been kept in a sealed environment.)
Please pay attention to the weight of the fiber you have chosen. Although most fibers shown are priced in 1.8oz/50g weight bundles, some are priced in different weights.
---
100% CELLUOSE
CLICK ON THE PHOTO TO SEE A LARGER IMAGE
This fiber was grown and prepared in Belgium into a long line top form with staple lengths equal to the length of the flax plant. This is a very clean and fine flax for the most exquisite linen spinning. This preparation may be spun from your lap or a distaff and spins best wet. It arrives in a bundle that keeps the fiber in a neat, parallel configuration, ready for the best of spinning. The yarn becomes softer when successively washed or boiled in hot water. The fiber over-dyes, with fiber-reactive or natural dyes, to muted tones.
---
100% WOOL & CASEIN (MILK)
CLICK ON THE PHOTOS TO SEE LARGER IMAGES
---
100% SYNTHETIC NYLON (blending fiber)
CLICK ON THE PHOTOS TO SEE LARGER IMAGES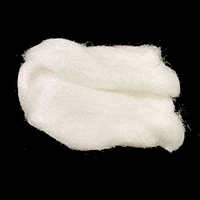 "Firestar" Nylon SH-7090 (0.9 oz/25 g)
An ideal fiber for adding sparkle to novelty yarns. Dyes with protein/acid dyes.
$2.25