Due to the current complexities with importing silk and silk-blend fibers, what we have in stock here is all we have to offer. We will not be restocking.(These fibers were imported prior to the pandemic and have been kept in a sealed environment.)
Please pay attention to the weight of the fiber you have chosen. Although most fibers shown are priced in 1.8oz/50g weight bundles, some are priced in different weights.
Click here to learn about fibers & their unique qualities.
---
FIBERS AVAILABLE AT SAGA HILL…
Click on the image or name of the fiber to go to the shop page for that fiber.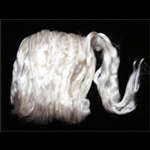 100% SILK FIBERS
Cultivated Bombyx Mori
Cultivated Silk (also called Bombyx or Mulberry Silk) is the highest quality of silk. It comes from silkworms of the Bombyx moth that are raised in captivity and only fed mulberry leaves. Because of the strict diet, Cultivated Silk has a natural whiteness and sheen unrivaled by other fibers. We carry many different preparations of Cultivated Silk.
Wild Silk (Tussah Silk is a common variety) comes from the silkworms of different moth varieties that live in the wild or are semi-cultivated, and eat a mix of different plants such as oak leaves, plum leaves, and castor beans. The varied diet is a primary reason for the color of the silk (varying from an off-white to a medium beige). All bright white wild silks have been bleached. These silks have a slightly coarser fiber than Cultivated Silk but blend well with fine-staple wools. Many beginning silk spinners find Wild Silk to be a good first silk spinning fiber since it's slightly less slippery than Cultivated Silk. We carry a variety of Wild Silk fibers.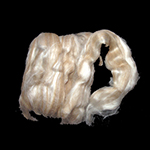 SILK BLEND FIBERS
Silk/Alpaca Blend Fibers
Silk/Alpaca fiber blends are particularly well suited for the finest of spun yarn. Alpaca has a structure which gives it a very soft handle, comparable with that of a grade of sheep's wool three or four microns finer. When blended with silk, this fiber combination is exquisite.
From Yak to Bamboo, Wool, Cashmere, Angora, Cotton, and Flax – we offer a unique selection of fibers that have been blended with silk fibers.
OTHER FIBERS – WOOL, CELLULOSE, & SYNTHETIC
100% Wool
In keeping with our fine fiber focus at Saga Hill, we offer only the softest 100% wool fibers of Merino, Polwarth (bred from the best qualities of Merino/Lincoln sheep), and Blue Face Leicester (Leicester is pronounced "Less-ter").
Our current cellulose fiber is long-line Flax, although occasionally we offer Cotton at pop-up markets.
Synthetic fibers are useful to blend with other fibers to strengthen yarns for items such as socks and, in the case of the Firestar fiber, add a bit of sparkle to novelty yarns.